Gia's Boutique
WordPress Development + WooCommerce Store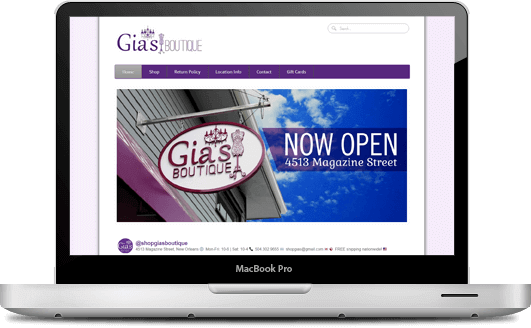 Client Overview
Gia's Boutique began as a webstore. The shop's owner approached me to build a website for the boutique and had two demands: (1) it had to be able to sell clothes on-site (without using a third-party service to sell inventory), and (2) it had to look good on customers' phones.
Project Details
Salty Key built a custom WordPress site and WooCommerce e-store for the boutique to sell inventory. Since payments were processed on-site (we would later move to PayPal for processing payments), we took extra security precautions to ensure safety and protection of customer info. The site was completely editable for the user; the client was able to change content, manage product inventory, and list new products in-house without having to contact Salty Key or any other developer to make changes for them.
Gia's Boutique has the distinction of being the first client of Salty Key, and we couldn't be happier for them. The webstore was a success, which led to physical locations on Magazine Street and later Harrison Avenue.