Lusco Outdoors
WordPress/WooCommerce development for a custom booking and reservation system.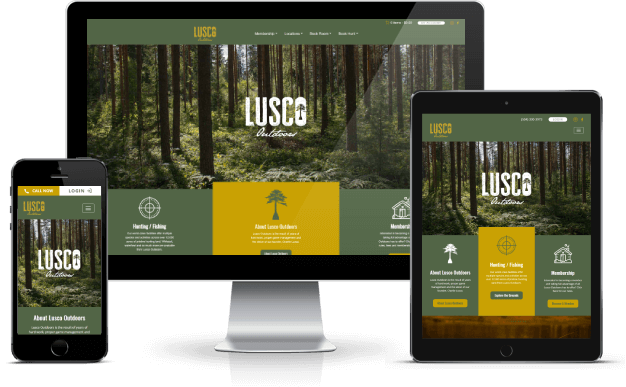 Client Overview
Lusco Outdoors is an exclusive members-only hunting club that owns seven hunting and lodging facilities across Texas, Louisiana, and Mississippi. Members of the club are allowed to book either private rooms or single beds for themselves or guests (non-members) at any of the club's properties. Members can also reserve hunting stands and hunt various wild game at the properties.
Project Details
Salty Key built a custom WordPress site with public-facing content to highlight each of the clubs properties and available game and to accept member applications. We also used the Restrict Content Pro plugin to restrict certain pages and the e-store to club members.
Each member could create their own account with the site to access member-exclusive content. This includes booking rooms at one of the club's lodges, purchasing a day pass or reserving a hunting stand, purchasing hunting supplies at the online store, seeing the club's calendar of events, viewing past orders or upcoming reservations, and editing their member information.
The booking and reservation system was a native WordPress application built with WooCommerce. It allowed members to book private rooms or single beds. Members could also book rooms/beds for other non-members (non-member fee was accessed online at checkout). The ability to book entire rooms or single beds within a room required custom programming to avoid overbooking a particular lodge.
Project Update
The club has switched the public-facing side of the site to HubSpot. The private members-only login area is still WordPress. I have included screenshots of the original WordPress site I built plus screenshots of the reservation pages. I did not build the HubSpot part of the site, but the booking system is still being used. We also restricted certain dates to only book single beds (and number of beds reserved per user) to accommodate as many members as possible.