The Labourdette Law Firm
Custom web development designed for ease of contact across devices.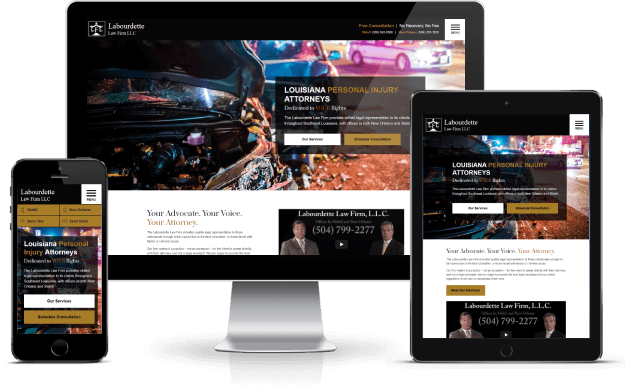 Client Overview
The Labourdette Law Firm practices personal injury law as well as automobile accidents and slips and falls.
Project Details
For personal injury lawyers, it's imperative that the website guide users towards making contact quickly. The website must: (1) build the credibility and competency of the attorneys, and (2) make it very easy for users to call, email, etc.
Salty Key put special emphasis on mobile design for the Labourdette Law site. It's well established that the majority of web traffic is mobile. Any business that deals with auto accidents/injuries will have mobile users that need to get in contact with an attorney immediately. We made it easy for users on the road (and on their phones) to get in contact by email, phone, or text message — all just one click away. We also set the email forms to send text message alerts to the firm's attorneys so they'd know instantly when a form was submitted.
Project Update
Since website launch, requested changes were made to the homepage. I included screenshots of the original homepage design for reference.
Visit Site