WordPress Updates its Recommended Hosts
Last week I wrote about how to spot a good web host, and I mentioned the list of recommended hosts on WordPress.org. At the time of writing that post, WordPress had one host listed on its recommendation page: Bluehost. There was, however, a note at the bottom of the page saying WordPress was in the process of updating the page. I don't think anyone took that note seriously.
Well, the joke was on me! I was very pleased to see that WordPress updated its hosting recommendations within the past week. While Bluehost is still listed, the other companies mentioned are great: DreamHost, SiteGround, and Flywheel.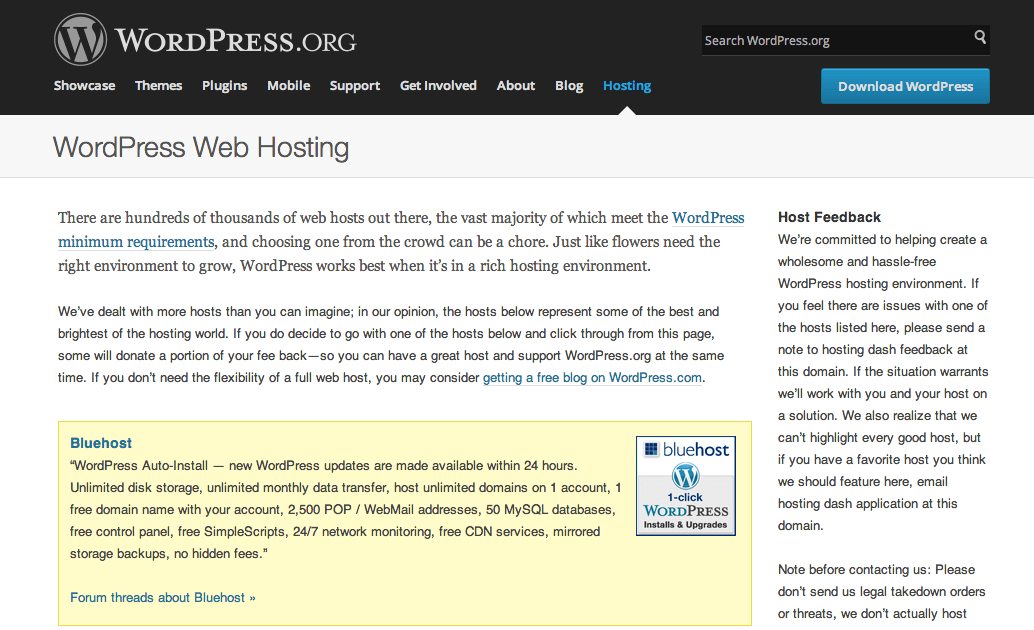 The old recommended hosts page on WordPress.org. This page recently received a (much needed) overhaul.
Yes, there are plenty of other great hosts not listed, but there is a reason for that. Any host listed on this page will receive a flood of new customers; Matt Mullenweg (co-founder of WordPress and CEO of Automattic) has stated he wants to make sure any host listed on that page has the capability to handle the influx of new customers. That's a fair point, and one that I agree with.
So what's the deal with Bluehost?
Companies like Bluehost and HostGator — both of which used to be quality hosts — have become villains in the WordPress community. (If you don't believe me, just do a quick Google search for user reviews for either company.) So that begs the question… why was/is Bluehost listed on WordPress.org's recommendation page? This was covered in my previous post, but many people believe Bluehost's parent company (EIG) has something to do with it. EIG frequently donates to the WordPress Foundation and is an investor in Automattic, which is the parent company of WordPress.com.
For those who are curious, take a closer look at how WordPress chooses its recommended hosts. From the WordPress hosting page:
Listing is completely arbitrary, but includes criteria like: contributions to WordPress.org, size of customer base, ease of WP auto-install and auto-upgrades, avoiding GPL violations, design, tone, historical perception, using the correct logo, capitalizing WordPress correctly, not blaming us if you have a security issue, and up-to-date system software.
Some of these are understandable, but having "contributions to WordPress.org" as a criterion sounds like a conflict of interests. Not that it's not within their right to do that, but WordPress has been accused of favoritism toward EIG-owned companies before, and this doesn't help.
It's also worth noting that these may be referral links, which would give WordPress a commission per sale. Usually companies will disclose any sponsors or affiliate links, but I couldn't find a disclaimer anywhere on the page.
Are there any other reputable sources for hosting recommendations?
Yes! You can check my last blog post (shameless self-promotion) or you can read these performance reviews from Review Signal and WP Site Care, which are both from 2015. Chris Lema also has a more simplified guide for choosing a WordPress host.